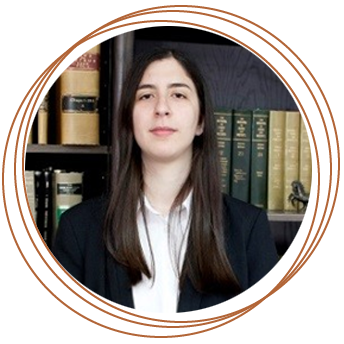 (+357) 25 262699
evdokia@christianaaristidou.com
Evdokia is an associate lawyer, lawtech expert, and core team member. She has been working as a lawyer since 2018.
Evdokia is involved with corporate and commercial law, eCommerce, banking and finance, and intellectual property, while focusing, at the same time, on technology-oriented issues, with specialized practice on fintech. She conducts research in blockchain and law, including blockchain-based uses and applications for the public and private sectors, while participating in ICO and STO arrangements, blockchain-enabled legal projects, decentralized finance (DEFI) schemes,  tokenization, and innovative cryptoasset-enabled business models.
Evdokia provides legal opinions and consultation on the areas of banking and finance, open banking, electronic signatures, and remote onboarding, intellectual property law, and corporate law. She also advises startup and innovative businesses, offering consultation on their funding, proposing, and implementing startup-appropriate funding means. She is involved in blockchain and artificial intelligence projects attending to their legal and regulatory needs and preparing all necessary legal documentation. In line with her interest in disruptive technologies, she has joined forces with other team members and coordinates with AI specialists to develop Rhea, an AI-operated legal bot seeking to facilitate and expedite the process of setting up a Cyprus-based company.
Evdokia is a co-author in journal publications on Fintech, and Blockchain and Standardization.  She is a member of the Cyprus Bar Association and a member of the Cyprus Blockchain Association, a non-profit organization seeking to develop blockchain use in Cyprus, which has recently merged with the non-profit company Cyprus Blockchain Technologies. Evdokia holds an LLB from the Queen Mary University of London and an LLM in Corporate Law from LSE.